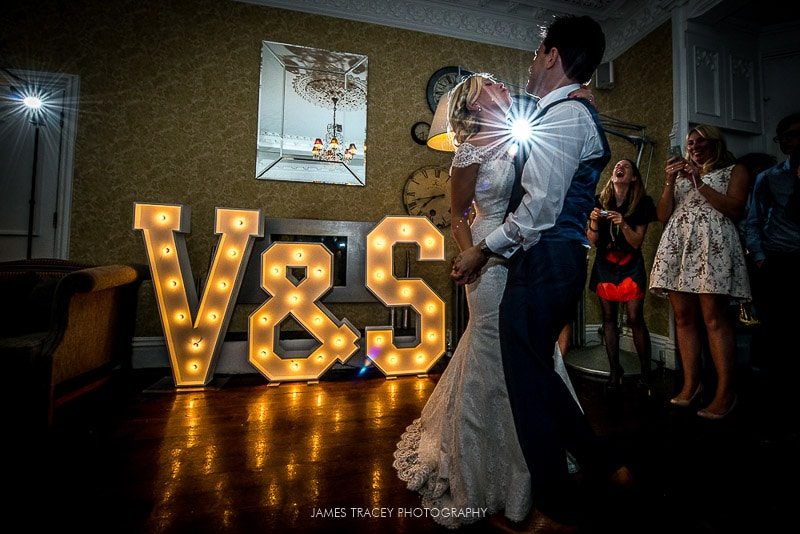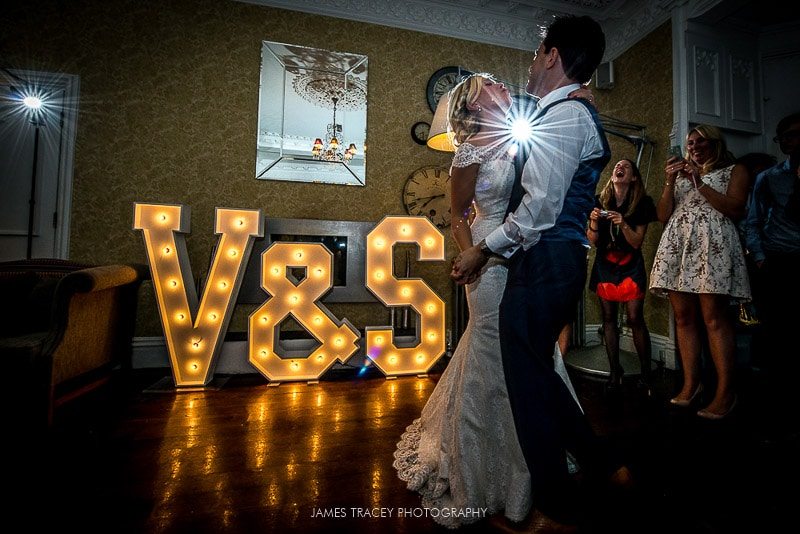 Vicky and Stefano's Didsbury House Hotel  Wedding Photography
You know a wedding is going to be a cracker when the bride and bridesmaids are doing Jager-bombs at 11am! I turned up to shoot Vicky and Stefano's Didsbury House Hotel wedding photography at Vicky and Stefano's home in Didsbury and knew from the moment I walked in this was going to be a brilliant day! The morning preparation were fantastic with the girls having plenty of fun (no nerves at this wedding) before I set off to the church in nearby Chorlton to catch up with Stefano.
Stefano and his team were waiting at the simply spectacular St John's RC Church in Chorlton. It's a huge Church and it's an absolutely beautiful place to get married. Dan Lloyd (who was assisting with me again) and I were allowed absolute freedom to shoot the wedding service (which is always appreciated). The marriage service was brilliant, with plenty of laughter and some wonderful personal touches, such as Vicky's cousin Jacqueline White, who is a professional Opera singer, performing whilst the wedding registers were being signed.
Natural Wedding Photos
After the service Vicky and Stefano took the short walk into nearby Chorlton for some relaxed, natural wedding photos. Chorlton is one of Manchester's coolest areas and it's ideal for a short session of couple photos with plenty of cool shops (and people) before we stopped off at Fletcher Moss Park in Didsbury for a slightly different look and feel to Vicky and Stefano's photographs. When we arrived at Didsbury House Hotel the wedding guests were well into the swing of things with Magician Iain Moran entertaining them as the beer and wine was flowing. Didsbury House Hotel is a beautiful venue for your wedding or reception (If you'd like to see a wedding at Didsbury House Hotel have a look at Kenny and Richard's wedding earlier in 2015 here). It's a boutique hotel with wonderful modern décor, complimented brilliantly with light up letters and a light up love heart from my friends at The Word Is Love!
One of the great things about Didsbury House Hotel wedding photography is that the speeches are often held on the main staircase and with all the guests packed in I got some great shots of everyone enjoying the speeches which were littered with well wishers from the world of TV (Stefano has worked alongside some very famous people). I love the speech photos and my favourite one easily being Stefano's mother receiving a toast from all the guests. I love mums face on that photo and it's the type of wedding photograph I am always looking for, a natural, real moment on a wedding day.
Before the first dance started the team from The Woodland Rover arrived and set up their wood fired pizza Land Rover. Yep, the van has a full wood burner inside it to make the most amazing pizza, before the dancing really kicked off with the sensational Brass Funkey's preforming. The wedding guests enjoyed it that much the floor of The Didsbury House Hotel was literally bouncing, easily one of the best night parties I've seen at a wedding! I loved being Vicky and Stefano's Didsbury House Hotel wedding photography and cannot wait to return. I must say a huge thanks to Sian at The Flower Lounge in Didsbury, not only did she provide the amazing wedding flowers you see in the photos below, but Sian pointed Vicky and Stefano my way too, so once again, thank you!
Here's Vicky and Stefano's Didsbury House Hotel wedding photography. Photos by me and Dan, music by COLLEAGUES…
Hair – Carly Salter from Planet Hair in Stockport.
Bridal Boutique – Bethany Hannah in Stockton Heath
Dress – Augusta Jones
Grooms suit – Ted Baker
Bridesmaids dresses – Coast Limited Edition
Wedding Shoes – Rainbow
Flowers – Didsbury Flower Lounge
Catering  – The Woodland Rover
Wedding Cars – Dad's old Jag
Live Music – The Brass Funkeys, London.
Magician – Iain Moran
Light Up Letters – The Word is Love
Stationary –  Not on the High Street
Guestbook and Fingerprint Tree – Friend and local artist David Lowther
Cake – Friend Laura Harding
Opera singer in Church – Brides Cousin Jacqueline White
Second Shooter – Daniel Lloyd Photography
Didsbury House Hotel, Didsbury Park, Didsbury Village, Manchester M20 5LJ
Didsbury House Hotel Wedding Photography by James Tracey © 2016
https://jamestraceyphotography.com/wp/wp-content/uploads/2016/01/Didsbury-House-Hotel-Wedding-Photography-48.jpg
534
800
James Tracey
https://jamestraceyphotography.com/wp-content/uploads/2016/09/Manchester-Wedding-Photographer-James-Tracey-Photography-logo.png
James Tracey
2016-01-27 20:12:54
2016-10-18 09:05:20
Didsbury House Hotel Wedding Photography // Vicky and Stefano