Central Park Wedding Photographer New York // Anna and Andy
A Wedding In New York
Mrs T, "What's the dream?" Me, "A wedding in New York." That short conversation between Mrs T and I happened after I had just handed my notice in and I'd started my new career as a wedding photographer. I love (and I mean LOVE) New York City, I'd proposed to Laura over afternoon tea at The Plaza on 5th Avenue back in 2011, so the city will always be a special place and as a child who grew up in the 80's it seemed like every movie from my childhood was filmed there. I've always loved New York, but honestly, I never thought I'd get to shoot a wedding there, so that was it, my dream wedding would be in New York City. In all honesty I knew it was something that probably would never happen but that's the point of having a dream isn't it? Well, I thought it would never happen until Anna and Andy got in touch.
Anna and Andy had a plan, and what a plan, they were sneaking off to New York to get married in secret in Central Park along with a tiny handful of family guests. The cover story was they were going on holiday in France and would announce that they were actually married the day after their Central Park wedding on Facebook. The best bit was they wanted to take me along to be their Central Park wedding photographer, shoot the wedding and then head off around the city to spend the day photographing couple photos all over Manhattan. The dream was coming true!
Ladies Pavillion
Mrs T and Ana joined me on the 7 hour flight to the States and we spent a couple of days wandering around the city working out the best spots for photos and timing the day in advance before I met up with Anna and Andy at Giraffe Hotel for the morning preparations. They broke with tradition and got ready together before we hailed a yellow cab for the short trip to Central Park. I don't think I've ever been so excited heading to a wedding service. At Central Park I was joined by my dad (by total coincidence on holiday in NYC) who had offered to be my 'bag man' for the day and we made our way into the Park for the wedding service at Ladies Pavillion over looking the lake in Central Park. The Reverend Annie Lawrence officiated and did a beautiful, personalised service that really made the Central Park wedding that little bit extra special (I cannot recommend Annie enough if you're getting married in NYC). After a handful of formal photos with Anna's family it was time to head out into the city.
Grand Central Terminal New York
Andy hailed a cab and within minutes we were stood bang in the middle of 'the crossroads of the world' in Times Square. I can't lie, I could have exploded with excitement, here we were, stood in one of the most iconic and famous places in the world and I was shooting a wedding! From there we walked to The Rockerfella Center and up to The Top Of The Rock. The staff at The Top Of The Rock were amazing, sweeping us past the queues and treating Anna and Andy as true VIP's. Next was Grand Central Terminal. Anna loves the building and had asked for something a bit 'wow', so I sent them off into the concourse with a brief to kiss on my signal. From there I had the idea to use a slow shutter speed to blur the other commuters yet keep Anna and Andy razor sharp in the centre of the frame. New York is a city that never stops and I wanted that to come across in the photo. Even if I do say so myself it took a little skill, patience and good luck along with a good 2o minutes but I think it was worth it…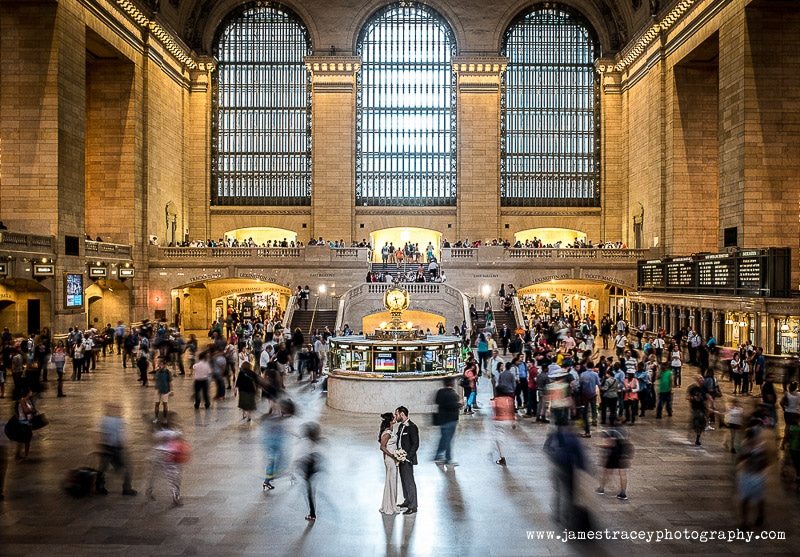 Greenwich Village
A spot of lunch in the Malt House in Greenwich Village followed with a few photos inside the very cool bar before we walked along Bleeker Street (fans of the TV Show Friends will be familiar with 'Bleeker') and grabbing a shot with an NYPD cruiser before we headed up the Avenue of The America's for a cool shot in the middle of the road with the One World Trade Center in the backdrop. From there we went into the Meatpacking District before finishing up on The High Line, a disused raised railway line that has been converted into an amazing outdoor walkway and public park. All in all, we'd been on our feet for 6 hours yet we all loved every minute of it. New York is a city I will never ever get enough of and New Yorkers were amazing, with well wishers congratulating Anna and Andy at every opportunity.
Anna and Andy then joined their family for a steak dinner and they even took me along to say thank you (which they really didn't need to do) and it was AMAZING! Unable to hail a taxi I walked back to my hotel and took in New York by night. Walking past the lit up Empire State Building I had to stop and pinch myself that this had really happened. I'll never be able to thank Anna and Andy enough for taking me with them as their Central Park wedding photographer. It was the dream and they made it come true, so Anna and Andy, the biggest, most heartfelt thank you.
Once back at my hotel I edited a selection of images and emailed them to Anna and at around 1pm the following day as Mrs T, Ana and I walked up 5th Avenue on our way to a celebratory Afternoon Tea at The Plaza Hotel,  Anna broke the news on Facebook that they'd secretly got married in New York and shared the pictures. They'd done it, no one had any idea and people were equally shocked and delighted at the news.
With that, the dream wedding had come true and I'd spent one of the most exhilarating days of my life walking around the greatest city on earth photographing an amazing couple on the best day of their lives.
So, enough from me, here's Anna and Andy's Central Park wedding photography with music almost as cool as the day itself by COLLEAGUES and photos by me…
CREDITS:
Hotel: Hotel Giraffe
Venue: Central Park, New York City
Dress: Ghost
Shoes: Jimmy Choo
Groom: Hugo Boss
Hair and Make Up: Sharon Becker Hair and Beauty
Wedding Planner: Tammy Golson Events
Officiant: Rev. Annie Lawrence
Flights: Thomas Cook
Hotel: Distrikt Hotel NYC
Central Park Wedding Photographer James Tracey. © 2015 Manchester wedding photographer James Tracey
https://jamestraceyphotography.com/wp-content/uploads/2015/10/Central-Park-Wedding-Photography-New-York-Anna-and-Andy-64.jpg
534
800
James Tracey
https://jamestraceyphotography.com/wp-content/uploads/2022/05/james_tracey_colour.png
James Tracey
2015-10-01 11:42:35
2021-04-07 16:44:33
Central Park Wedding Photographer New York // Anna and Andy